Key Words: NewScen Rapid Immuno Assay Reader
Model Number: NS7001
Type: Immunoassay System
Principle: Quantitative, semi-quantitative, qualitative analysis
Test Items: Cassette (Test)
Operation: Interaction of LCD Touch Screen & Operator
Certificate: ISO9001/ ISO13485/CE
Software: Optional
Test Report: T-line color intensity (GOD value)& positive or negative
Print: built-in printer
Power Consumption: 20VA
Input: 100-240V AC,50/60Hz
Output: 5V DC,4A
Net Weight: ~ 1.7 KG
Measurement: 170×160×200 mm
Description
1. Intended Use:
The reader can be used to obtain quantitative, semi-quantitative and quantitative data from various strips of the same test lot number. The results of each strip, therefore, can be compared with each other and statistical information can be generated.
The main use of the TSMC TSMC Rapid Immuno Assay Reader 7001 is to evaluate the rapid test cassettes. The reader is capable of reading more than 2 lines and can be used for batch analysis.
This is a closed system which means it can read all of TSMC's rapid tests. The reader can be effectively used in Government Laboratories, Clinical labs or Hospital laboratories, Device Manufacturing Facilities. See the list of the rapid tests below.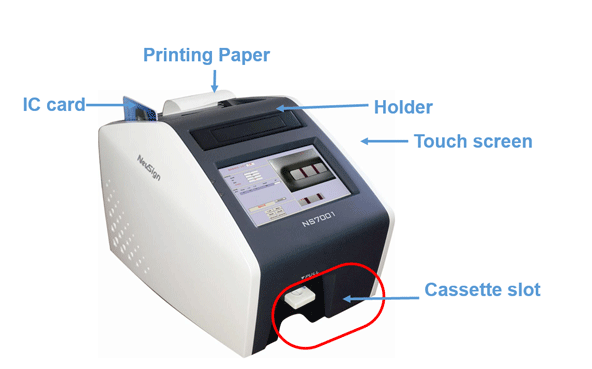 2.Scope of Application:
NewScen Rapid Immuno Assay Reader (called here as "reader") is intended for the interpretation of Later-Flow assays Colloidal Gold (Immunochromatography) medical devices. The results from the test reader now give very sensitive, highly reproducible, qualitative, or semi-quantitative, or quantitative results. The results generated by the reader can be transmitted via wi-fi to the main laboratory or can be stored on the reader. The data can be saved using the USB port or can be printed by the reader.  This Reader is a must for Point-Of-Care diagnosis & quality control/quality assurance.
3.Intended Use of the Reader:
The main use of this reader is to evaluate the Lateral Flow Colloidal Gold test cassettes and strips. The reader is capable of reading more than 2 lines and can be used for batch analysis. This is closed system means it can only read our manufactured Lateral Flow devices. Can be used in the field, Slaughterhouses, Government Laboratories, clinical lab or hospital laboratory and Device manufacturing facilities.
4.Main Features of the Reader: 
4.1. Values reported as Positive or Negative with GOD units.
GOD value = colloidal Gold color intensity, not Optical density.
4.2. Precision is exceptionally high. Excellent accuracy.
4.3. Automatically reduces background color.
4.4. The results are highly sensitive compared to human eye readings
4.5. One-step(after initial instrument set-up) & Easy to use
4.6. Portable with Battery and house current operation.
4.7. Affordable price
4.8. Easy to set the test line on the Cassette housing.
4.9. Several hundred data can be stored on the reader.
4.10. Input of test serial number for identification of samples.
5.Capability/Component of NewScen Rapid Immunoassay Reader :  
ARM embedded system
DSS (Data Sources System)
LSS (Lighting Sources System)
MCS (Microprocessor Control System)
DTS (Data Transmission System)
IC Card, DRS (Data Reading System)
Software Package
6.Range of Application:
6.1  Medical Diagnosis: ① infectious diseases (B.TB, B. Brucellosis Abortus)  ② Surface drugs of abuse Testing
6.2. Agriculture inspection(animal food residue) : ① pesticide residue test ② Clenbuterol
6.3. Scientific research: NPD (new product development)
7.Installation of NewScen Rapid Immunoassay Reader :
7.1. Please check the packing slip for items shipped, in case of any shortage or damage of the parts or items.
7.2. The instrument is mainly for analysis/recording of the test result & interpretation. There is no direct contact between the instrument and the sample being tested, However, the sample on the strip/cassette may be bio-hazardous, and attention should be paid during operation so as not to get contaminated.
7.3. The Reader should be placed on a smooth surface for operation. Enough space should be left for ventilation & disconnection; Reader should be placed at least 10cm away from the edge of the operation desk.
7.4. Diagram below shows the proper connection for Reader.

7.5. When the Reader needs to move, should try to keep it upright handling, and pay attention to light with light. After handling, install the Reader according to 7.3 and 7.4.
8.Storage and transportation:
8.1. Temperature for storage/transportation: 0 ℃~ 40 ℃.
Maximum relative humidity: ≤ 85%.
Atmospheric pressure: 76 ~ 106kpa.
8.2. Special delivery box is required for shipment of the reader; please handle with care.
8.3. There are no restrictions concerning the means of transportation unless the delivery is in compliance with transportation regulations.