Key Words: Immunoassay Reader, Rapid Test Reader, Lateral flow assay reader, Lateral flow assay reader, Mobile Assay Reader, Smartphone lateral flow reader, Medical lab analyzers rapid immunoassay reader
Model Number: NS7001 BRDI
Type: Digitalized Immunoassay System
Principle: Quantitative, qualitative analysis
Test Items: Cassette (Test)
Operation: Interaction of LCD Touch Screen & Operator
Certificate: ISO9001/ ISO13485/CE
Software: Optional, APP assist
Test Report: T-line color intensity (GOD value)& positive or negative
Input: 100-240V,50/60Hz
Output: 5V 0.5A
Net Weight: ~200g
Measurement: 115*60*90mm
Description
Digitalized Qualitative Rapid Immuno Assay Reader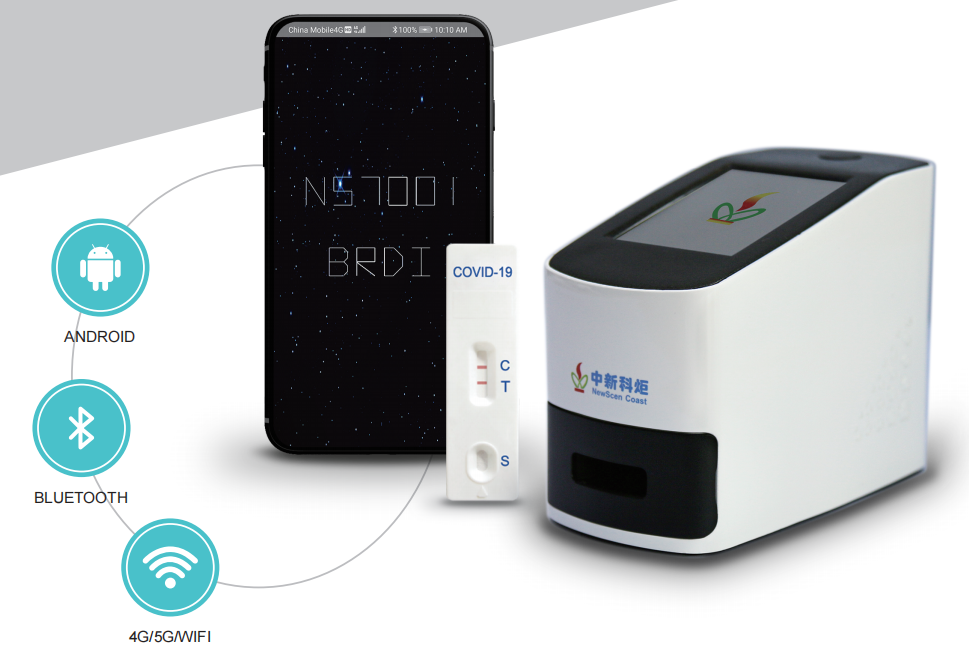 * Rapid, cost-effective screening solution for on-site testing
* Room temperature test cassette storage
* Micro volume sample from the fingertip
* Result in 15 minutes
* Broad test menu
* Handheld, easy to use the device
* Affordable and accessible for healthcare providers
1.Reader Introduction
NewScen Digitalized Qualitative Rapid Immuno Assay Reader NS7001 BRDI is an innovative handheld reader that connects the smartphone and rapid tests for the Digitalized Qualitative and Quantitative detection and interpretation of comprehensive bio-markers, including COVID-19, Infectious Disease, Hormone, Tumor Marker, Inflammation, Cardiovascular, Renal Injury, etc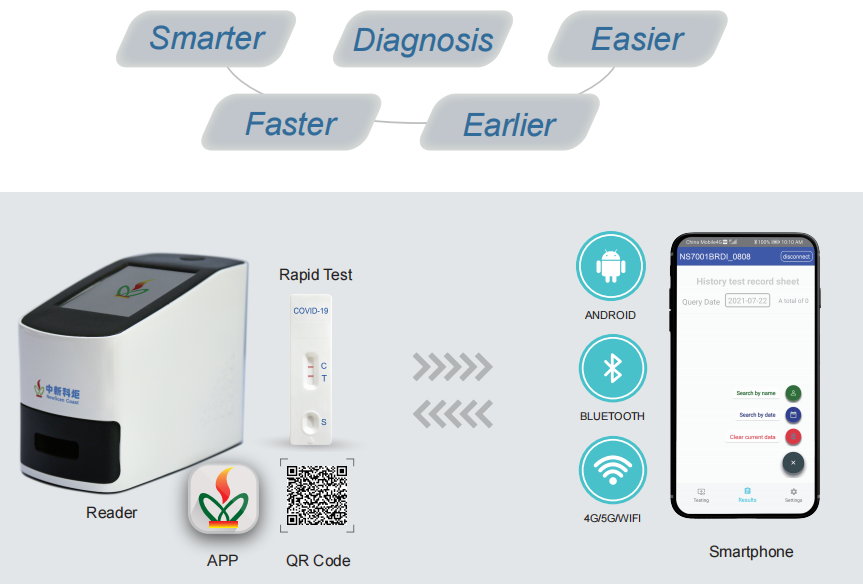 2.Applications:
*Hospital ( ER, ICU, outpatient, ambulance )
*Factory, railway station, airport, school, theater
*Labs, pharmacy, private clinic, community center, family

3.Technology Advantages:
3.1 Patented technology: universal, intelligent, handheld
*Professional chromatography immunoassay technology ( lateral flow RDTs )
*Innovative, scientific digitalized qualitative interpretation
*Rapid, accurate, fully quantitative interpretation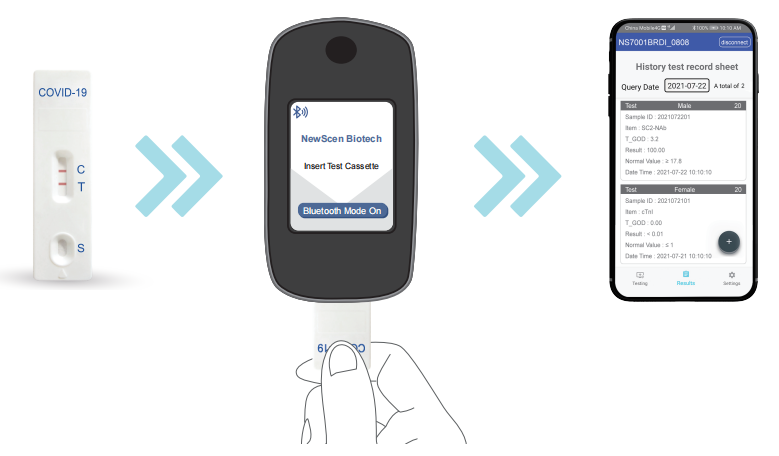 3.2 Reader Specification: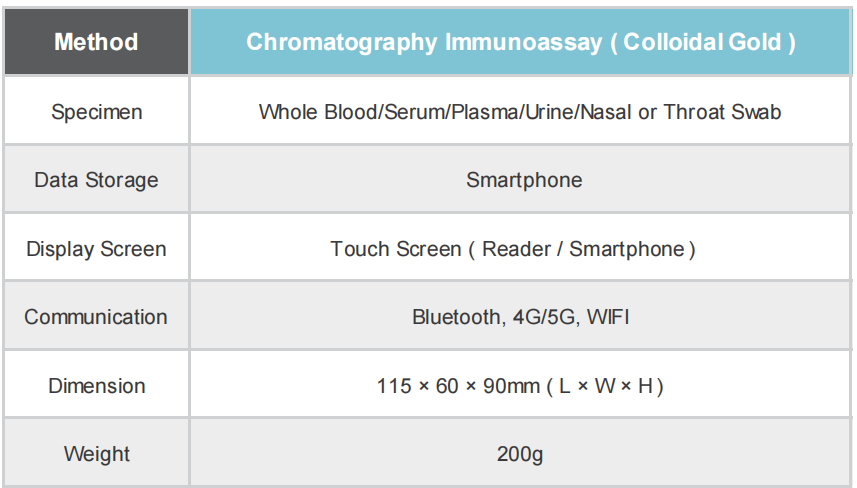 3.3 Easy Operation: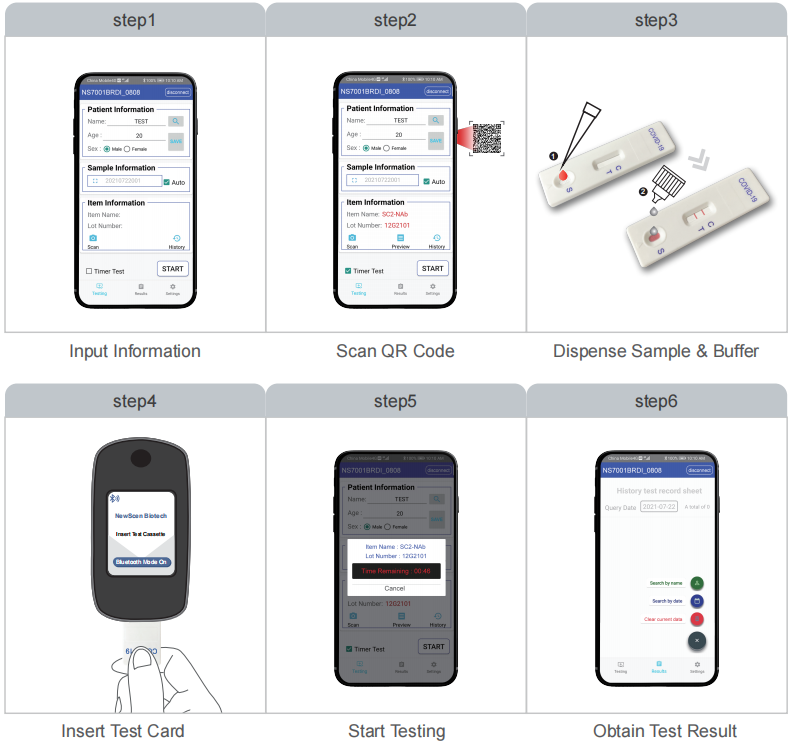 4.Advantages of NewScen Digitalized Qualitative Interpretation:
4.1. More Accurate: upgraded from traditional visualized +/- result to the specific data for further understanding of the progression of the disease.
4.2. More Reliable: to better accomplish the scientific and standard QC management.
4.3. More Traceable: test results could be recorded for review and analysis, avoid medical disputes.
5.Recommended
*Digitalized Qualitative Interpretation of COVID-19 NAb
COVID-19 Neutralizing Antibody Rapid Test Cassette is for the Digitalized Qualitative detection of SARS-COV-2 neutralizing antibody (NAb), which can be used to determine the immunity status and efficacy after infection or vaccination.

6.Test Items ( CE Certified )
Chromatography Immunoassay ( Colloidal Gold )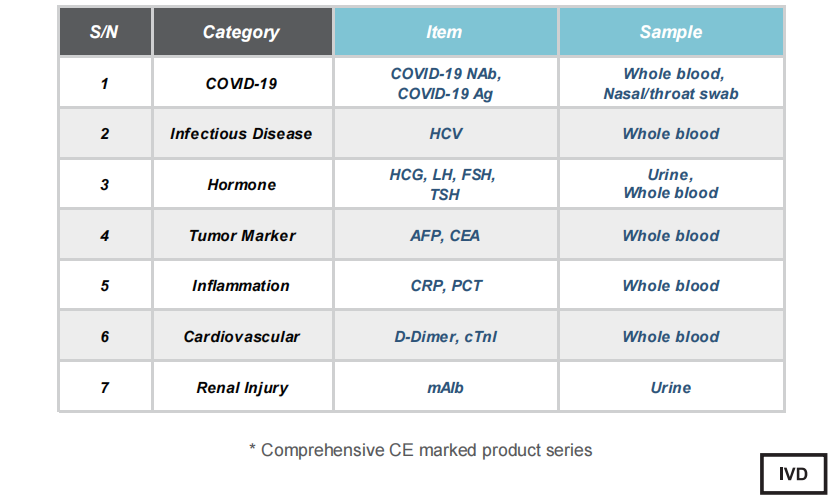 Download the Product Manual:NewScen Digitalized Qualitative Rapid Immuno Assay Reader NS7001 BRDI (24M)